Episodes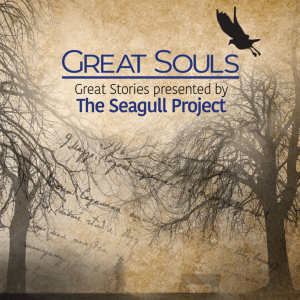 Thursday Oct 29, 2020
Thursday Oct 29, 2020
"Time's Signature" is the latest episode of The Seagull Project's Great Souls Podcast.  These short stories roll back the clock, featuring stories from mid century America, examining the American cycles that continue to impact us today.
Program:
One Friday Morning
By Langston Hughes
Read by Claudine Mboligikpelani Nako

Solo on the Drums
By Ann Petry
Read by Andre Reginald Jackson
Drums by Christopher Icasiano

And

The Key
By Isaac Bashevis Singer
Read by Julie Briskman

Directed and Produced by Gavin Reub
Recorded at the artists homes.


Enjoy!  And if you like what you hear then please consider donating to The Seagull Project.
Donate Here.
Sign up for our Newsletter HERE!
Don't forget to give it a like, comment, and share with your friends.